Mobile web it's the present and future. Do you know 15% of the online transction were done using a mobile device in 2012?
Nearly 1.5 billion people use a mobile device to access the Internet around the world. There are millions of consumers who could become your newest clients if you can reach them successfully.
The mobile Internet is its own world. If you have a website that is not mobile compatible, you are losing out on a large chunk of potential business. Most smartphones are incapable of properly displaying websites made strictly for access on a computer. You need a dedicated and custom mobile site to target consumers who are searching on their phone instead of on a laptop or desktop.
Many mobile web surfers are looking for information to make a purchase. If you can be the company that reaches them first, you could net a new customer or client. Hundreds or thousands of new customers will help you grow your business beyond what you ever expected. Crayons Creations is the premiere Kerala based website design and development agency that can handle your custom mobile site development plans.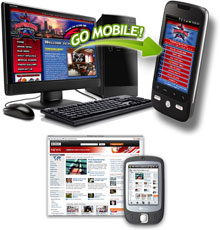 Important Key features.
Made for a Mobile Phone screen.
Completely compatible for all Mobile browsers.
Content is legible in the first instance without having to either zoom or figure out how to navigate.
Navigation structure is more user-friendly and intuitive.
Variety of screen size
Optimized Images.
Substitutes for Flash, AJAX and Java Scripts (E.g. Drop Menus) as these don't work on most Pre-installed Browsers on Mobiles.
Download time is optimized as the mobile site is built on a lighter technology.
Economy

$125

BDT 10,000

Advanced

$190

BDT 15,000

Professional

$250

BDT 20,000

5 Page Mobile Website
10 Page Mobile Website
20 Page Mobile Website
1 HTML5 Home Page
1 HTML5 Home Page
1 HTML5 Home Page
3 HTML5 Content Pages
8 HTML5 Content Pages
18 HTML5 Content Pages
1 HTML5 & PHP Contact Form
1 HTML5 & PHP Contact Form
1 HTML5 & PHP Contact Form
Maps & Directions
Maps & Directions
Maps & Directionss
Responsive Design and Images
Responsive Design and Images
Responsive Design and Images

Order Now

Order Now

Order Now
Let talk about your project & your requirement and We will get back to you soon.
Get a FREE Quote
Mobile Works for Everyone
Both the largest and smallest businesses harness the power of mobile marketing if they find the right methods. Custom mobile website development is the best place to start your smartphone advertising efforts. You can use the website to discover what other types of mobile advertising will be effective for your company. Start connecting with consumers who are already interested in what you have to offer with the help of the mobile website design team at Crayons Creations. Call us to speak with a dedicated project manager who can help you create a custom package of advertising services.